Class of 2020 sisters support healthcare workers....
MAY 11, 2020
Class of 2020 sisters support healthcare workers and restaurants with their new nonprofit
Twin sisters Nila and Emila Tavangarian were headed toward an exciting, if rather typical, spring. Born and raised in Pacific Palisades, the sisters attended USC together, and were both on track to earn their bachelor's degrees in communication from USC Annenberg. Both had internships — Nila with a PR company, Emila with a real estate firm — that they hoped would turn into full-time jobs after graduation.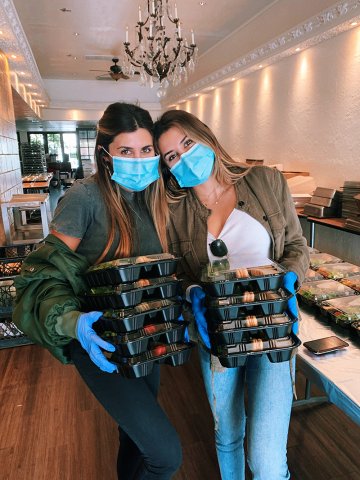 Photo courtesy of: Nila and Emila Tavangarian
When the coronavirus pandemic swept over the United States, the Tavangarian sisters found themselves sheltering with their parents at home starting in mid-March and taking their Spring semester courses online. Unable to enjoy the normal rituals that surround senior year, they decided to create a new tradition: Supporting their community during the crisis.
"Our dad is an architect who's worked with a lot of restaurants, and he has several friends who are struggling right now, some completely out of business," Nila Tavangarian said. "We wanted to help them out, while also helping the healthcare workers who are literally risking their lives every day for all of us."
Their idea to bring fresh, healthy meals to hospital workers from local restaurants and caterers became Feeding the First, a nonprofit organization financed through a GoFundMe page the sisters created. Since launching the nonprofit in April, the Tavangarians have delivered more than 5,000 meals to 17 hospitals around Los Angeles County in their first two weeks, paid for by the more than $35,500 they raised from donations.
They were able to quickly partner with local restaurants Volare and Tiato, as well as Thank Goodness It's Sofia Catering, to provide the food, but setting up their initial contacts with hospitals took longer. "When we first reached out to them, it was sometimes hard to find the correct person who took food donations," Emila Tavangarian said. "A lot of them are set up to receive donations of things like personal protective equipment (PPE), so at first some of them weren't sure what we were offering."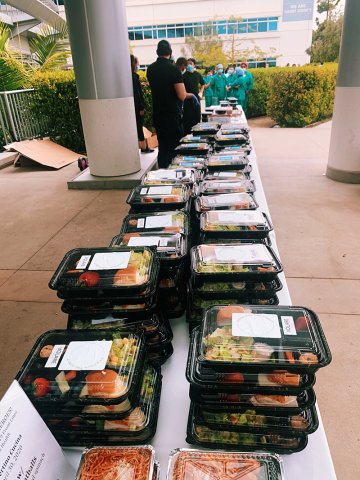 Photo courtesy of: Nila and Emila Tavangarian
They started out making all of the deliveries themselves, lunch and dinner, at hospitals ranging from UCLA Medical Center in Santa Monica to Keck Medicine of USC east of downtown. By the third week, Nila said, the catering company had begun to make some of the deliveries, so that the fresh food could arrive in time for the hospital workers' breaks.
"What we didn't realize before we started is, especially in the COVID-19 units, these workers are not working 8-hour days, but 16-hour shifts," Nila said. "And a lot of them aren't even going home to their families, they're going to hotels."
"They've told us their stories about how stressful this is for them, but they're also glad that they can make a difference," Emila said.
"Talking to them makes this whole thing very real," Nila added. "It's so tough for them to be helping patients who can't even receive visitors, especially in the ICUs, but they love that they can help save a life every single day."
Workers at several hospitals posted "thank you" photos to the sisters' Instagram page, and the pair also received a letter from Keck Medicine of USC CEO Thomas Jackiewicz for their donation of 700 meals to USC Keck — a number that has since doubled. "In these challenging times, it is humbling and inspiring to have the support from Trojans like you," Jackiewicz wrote.
As the Tavangarian sisters prepare to embark on their own careers after graduation, they are also determined to keep Feeding the First going for as long as restaurants continue to need the business, and front-line healthcare workers need healthy meals.
"This is our home, and we just want to find ways contribute," Nila said.